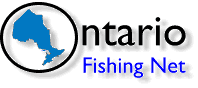 Ontario - Where Walleye Fishing Tales are Made! Vacations Lodges and Resorts!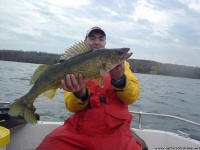 Walleye (Ontario Record - 22.25 lbs.)
No trip to Ontario is complete without tasting the wondrous and tantalizing flesh of the walleye. Defining the true meaning of a 'shore lunch', the walleye is a bonofide favourite amongst anglers, both in the pan and on the end of the line. It's no wonder why it is the most popular gamefish that Ontario has to offer! (also known as a "pickerel")
Readily available in lakes and rivers across the province, the walleye is always willing to bite a multitude of baits and lures. Known to hover close to bottom on many structure areas, namely weeds and rock, the walleye's number one artificial preference has to be the jig. A plastic twistertail is a simple and effective presentation, while tipping with a minnow, worm or leech can often lead to an increase in strikes. Live bait rigs will also work well on these bottom dwellers, as will cast and trolled crankbaits. Keep in mind that red, yellow, green and orange are the best colours to throw, as these can be seen most easily by the opaque eyes of the walleye.
The walleye is also a sought after specie come wintertime, with spoons and livebait accounting for the majority of fish through the ice. Covering water while fishing at dusk and dawn is the name of the game for these cold-weather combatants.