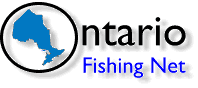 Ontario - Lake Trout Fishing Trips! Vacations Lodges and Resorts!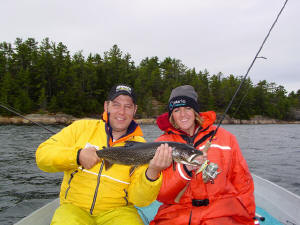 Lake Trout - (Ontario Record - 63.12 lbs.)
With their white and grey hues, the lake trout gives off a 'cold' appearance that perfectly fits its chilly disposition. Residing in clear, cold and deep habitats, the lake trout can be found throughout the Great Lakes, as well as in many small inland lakes and larger bodies of water to the north.
When fishing during the heat of the summer, deep trolling and vertical jigging is the only way to go. Large silver spoons and oversized jigs is the preferred bait for many laker enthusiasts, with stout rods and line being the norm for the best chance of landing these powerful fish.
Once spring arrives, shallow water trolling, or casting, can bring surefire action to the lucky angler that happens to intercept some fish.
As hard water begins to make its appearance, anglers flock to the frozen surface to vertically jig these creatures of the deep. For many, this is what ice fishing really means. How about seeing what all the fuss is about?