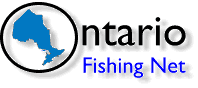 Ontario - Where Rainbow Trout Fishing Tales are Made! Vacations Lodges and Resorts!
Rainbow Trout / Steelhead - (Ontario Record - 29.12 lbs.)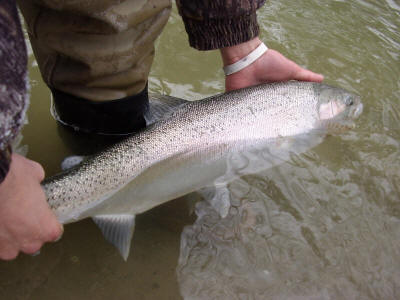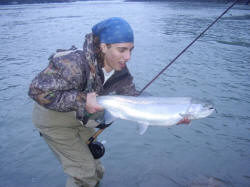 When spring is in the air, a certain rite of awakening has to be the migratory display that the spawning steelhead puts on. While their 'cousin,' the rainbow trout, spends its time swimming away the summer months throughout the Great Lakes, as well as many inland lakes and rivers, it is during the mating rituals of the spring and fall that their name takes on a change, as do their vivid colours.
A tempting fish for both the fly fishing enthusiast and the common caster, the rainbow trout provides aerial thrills and stunning tussles that would put most other fish to shame. Generally targeted with a trolled spoon during the summer months, the switch is made to roe, live bait or the trusty wet and dry fly during the spring and fall river runs. Light line, as well as small hooks and weights, are necessary to fool this cunning and smart fishing partner during its migration period.
Bring your waders and fly gear with you to Ontario - we have just the perfect fish to partner you up with.
Rainbow Trout - www.ontariotroutfishing.com