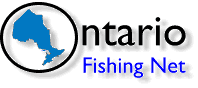 Ontario - Where LargeMouth Bass Fishing Tales are Made! Vacations Lodges and Resorts!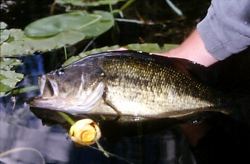 Largemouth Bass (Ontario Record - 10.43 lbs.)
Touted as a hard fighter and a tough customer to boot, the largemouth bass rates high on the Ontario anglers list. Not only does the green and white body hues dazzle in the summer sun, but it's the enormous size of the yap that really packs a punch. For this very reason, the nickname 'bucketmouth' certainly does seem appropriate.
Second only to the walleye in terms of popularity, the largemouth bass still attracts the most attention come tournament time throughout Ontario. Their willingness to strike a wide-variety of lures, the multiple techniques that can be used to catch them and the wide array of weed and wood structure they reside in, make the largie an admirable adversary any day of the week.
Found mainly throughout Southern and Central Ontario, the largemouth bass has a penchant for vegetation, preferring to spend the majority of its life in and around the green stuff. For the most part, shallow, fertile lakes, rivers and streams offer you the best chance for connecting with this species.
Popular baits to throw are spinnerbaits, jerk worms, Texas-rigged craws, worms and lizards, crankbaits, jig and pigs, as well as the heart-stopping topwater lures that bring a visual excitement that is like no other. Keep an eye out for lily pads, thick weeds, bulrushes, fallen timber and boat docks - these will all hold fish throughout the day.