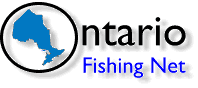 Ontario - Where Muskie Fishing Tales are Made! Musky Fishing Trips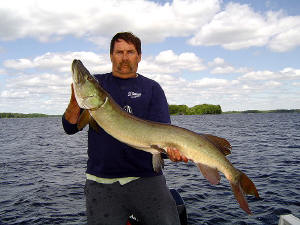 Musky - (Ontario Record - 65 lbs.)
Nicknamed "the fish of ten-thousand casts," the muskellunge is one tough customer to do battle with. With its razor sharp teeth and extraordinary size, the musky is solidly stationed at the top of the food chain, making the ardent angler work hard in order to raise or hook a fish.
Small, inland lakes will usually sustain an above-average quantity of fish, however the size will usually be on the small to medium size. Big water areas, such as the Ottawa River, St. Lawrence River and Lake of the Woods, are definitely where the big boys are, although the population size is not nearly as strong as their smaller counterparts. (Many in the know believe that one of these areas will produce the next Canadian record!)
When it comes to catching a musky, putting quality time on the water and throwing big lures certainly go hand in hand. Trolling large body baits, tossing oversized bucktails, and cranking in jerkbaits will all do the trick, although it is imperative that you use stout and heavy equipment to minimize the stress on the fish.
Late fall will usually see the heaviest fish caught, as the mighty musky will be gorging on prey at this time in order to store fat reserves for the long winter that lies ahead. Slow presentations will be the key to success during these cold-water conditions.