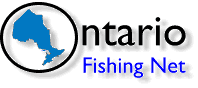 Ontario - Where Salmon Fishing Trips are Made! Vacations Lodges and Resorts!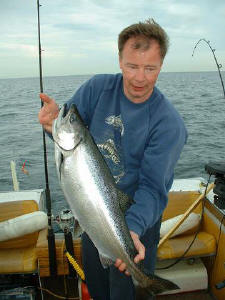 Salmon - (Ontario Record - 46.38 lbs.)
For those looking to tangle with the freight-train power of a salmon, Ontario is definitely the place to be. Located throughout the Great Lakes, the Chinook salmon is one species that should not be taken lightly. These fish possess the strength of an ox, leaving many anglers with sore arms and weak knees while fighting them to the boat.
While mainly considered a deep-water fish during the spring and summer months, downrigging with spoons or cut plugs is certainly the way to go. Troll across the great expanses of Lake Ontario or Superior, either in your own boat, or with one of the hundreds of charter captains that call Ontario home. Not only do you have a great chance of hooking a Chinook, the possibility of a coho, pink or Atlantic is always a possibility.
Come fall, the Chinook will begin its migration up the many tributaries that snake out from the Great Lakes, allowing the shore angler the best chance to do battle. Roe, spoons and small crankbaits are at the top of the list for river salmon, allowing anyone to easily get in on the game.