Ontario - Where Fishing Trips and Tales are Made! Vacations Lodges and Resorts!
The province of Ontario is truly an angler's paradise waiting to be discovered.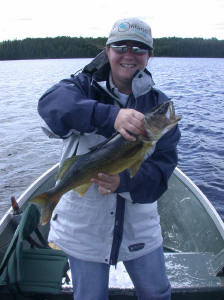 Do you prefer the tranquil solitude of portaging into a pothole lake, your only company being the brazen brookies and curious deer, or perhaps the home-cooked meals and down-home hospitality that only a family run fishing lodge can provide. How about boarding a plane for a fly-in trip that will excite and amaze you, where trophy fish run big in the pristine water, while the competition to catch them remains always small. If that's not enough, come aboard a guided trip for an exhilarating day on the water, learning the techniques and tactics that are guaranteed to work on our Ontario lunkers. Ontario certainly has it all, and as the saying goes, it truly is 'yours to discover.'
Boasting over 400,000 lakes, rivers and streams, finding a place to fish (or a willing combatant for that matter), has never been easier. And with 158 species of fish to set your sights on, deciding what to chase will often be your hardest dilemma. From the aerial acrobatics of the smallmouth bass to the ever-elusive musky, rest assured that this province has a specie of fish that is tailor-made for your angling expertise.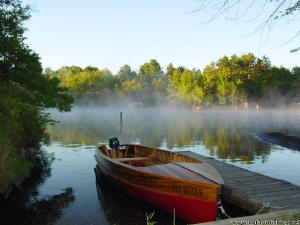 While the fishing is certainly fantastic, the staying is just as great. Ontario offers over 2000 lodges and resorts to the angler and vacation-goer, each with it's own style and personality that is sure to shine through. From 5-star establishments to housekeeping cabins - whatever needs and desires you crave, rest assured that the hospitality will be second to none.
Traveling across Ontario has never been easier; with paved highways reaching throughout the province, and gravel back roads winding to the hidden gems. Our resorts and lodges are always easy to get to, whether that means taking a plane, car or boat to reach the sure-fire paradise that patiently awaits you.
With so much to offer a fledgling or seasoned angler alike, the time is right to reap the rewards that Ontario promises to share. The diversity of fishing is second to none, and the chance for a true trophy is well within your grasp. Come and see what all the fuss is about - we guarantee you'll go home with memories that are sure to last a lifetime.
Get information from a variety of fishing lodges here!